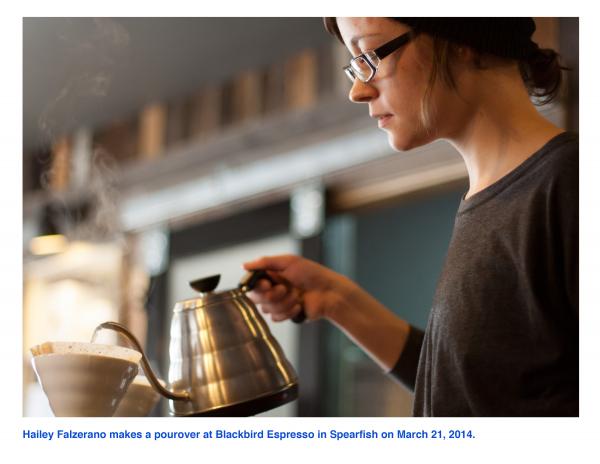 Stephen Farghali
On March 21st students in Black Hills State University's photojournalism classes took to the streets of Spearfish to document the daily lives of the people that live in their community for the Day In The Life project.
Students could choose whatever they wanted to photograph — the only parameters were that their photo had to be taken on that same day and it had to be taken in Spearfish.
Black Hills State graphic design and photo major Laura Howard is taking the class. She says the project gives students the opportunity to get out into the community and use the techniques they've learned.
"Try and grab like what is the quintessential essence of the town that we live in and experience what it is actually to be a photojournalist. You actually had to give it some forethought — you had to go out and think about it before you went out and did your shots," says Howard.
Students photographed a variety of subjects in Spearfish including a tattoo parlor, a barber shop, and a dog groomer. Howard snapped pictures of a forest service worker, another student went on a ride-along in an ambulance.
Photojournalism professor Jerry Rawlings says students are encouraged to capture the human element in their photos.
"For students that is a little bit intimidating — getting out, approaching people you don't know, walking into situations that you're not real sure of and where that situation's going to lead you to," says Rawlings.
Rawlings says the student's individual photos are being compiled into a book.
"It is a big collaborative portrait of this small community that we all love so much. It shows so many different aspects of what life is like here in Spearfish, which really could be translated to almost any small town in America," says Rawlings.
Rawlings says once it's completed, the Day In The Life Of Spearfish book is available for the public to purchase.
If the above audio is not working here is another audio player.
Upload Music – Upload Audio Files – BHSU Students Photograph A D…