Vlad's Fall Picks
by Vlad Mikhailov
Fall has finally come, which means that soon enough the trees are going to be covered in red, yellow and brown leaves. In fact, they have already started changing the colors! I don't know about you, but personally, when autumn comes, I love to have a full "fall experience", and to do that I usually watch movies, listen to lots of songs, and try to go for walks in the parks or forests as often as possible. So, I thought it would be a good idea to share some of my autumn favorites with you!
I've created a playlist on Spotify so that it's easier for you to look at the whole list of songs and add some if you like them. Hope you're going to love the song recommendations! Here are some of the songs from the list:
"Sweater Weather" by The Neighbourhood
"Daddy Issues" by The Neighbourhood
"Roslyn" by Bon Iver, St. Vincent
"we fell in live in october" by girl in red
"Photograph" by Ed Sheeran
"Anchor" by Novo Amor
"Cinnamon" by Jome
You can listen to the whole playlist on Spotify by scanning this code! (to do that, go to Spotify – search – tap on the camera button on top of the search bar)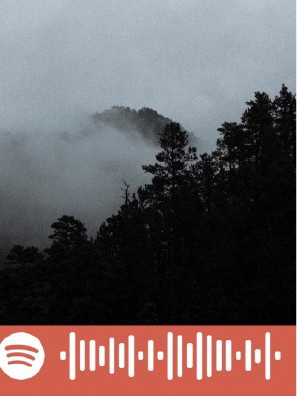 Also, I decided to include some of my favorite shows and movies that I absolutely love binge watching in Fall.
• Friends (all time favorite, fight me on that one)
• Twilight
• Hocus Pocus
• Halloween (especially the 2018 movie)
• Scream
To make your autumn even moodier you can go on walks in the park or the forest (I hear the canyon is very beautiful this time of the year!), do herbaria, get yourself a nice and comfy blanket and a hot cup of herbal or berry tea and have a great fall experience!