South Dakota Exhibition Chooses Art Made by BHSU Faculty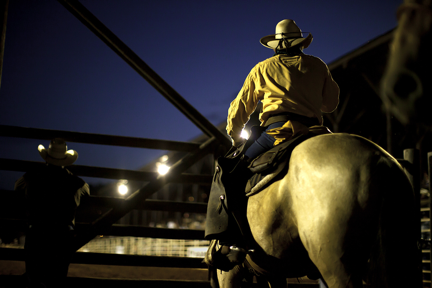 The South Dakota Governor's Art Exhibition has chosen to showcase artwork from five Black Hills State University faculty and staff.
The Governor's Exhibition will display 53 pieces by 48 artists this year, including paintings, drawings, sculptures, and photography. The display will be available statewide from Sept. 30 through January 2016 and feature artists who work and live in South Dakota.
The faculty and staff whose artwork was chosen are: Michael Baum, adjunct instructor of art; Erica Merchant, adjunct instructor; Paul Peterson, adjunct instructor in music and guitar; Jerry Rawlings, assistant professor of photography; and Ann Porter, associate professor of art.
"Advocate Valence," an oil painting by Peterson, was named best in show.
Porter's piece — a charcoal drawing titled "Lion Human" — reflects her recent art methods. "I like the charcoal," Porter said. "It speaks of memory. Its history began when human image-making began. If we remember as far back as smudgy black and white family photos, charcoal suggests the passage of time. It has weight; it has value; it has intimacy."
Baum had not one, but two pieces selected for the exhibit. "This is really a culmination of the most significant artists in the state and it shows we're part of a prolific art movement in South Dakota," he said. Baum's pieces are halftone drawings titled "A Small Boat in a Big Ocean" and "Waves & Rocks." These works are recreated from snapshots using small dots and circles.
Other pieces selected are Rawlings' photograph "Rodeo Cowboy" and Merchant's ceramic work "Cretaceous Teapot."
The exhibit will will be on display at five South Dakota galleries. The South Dakota Art Museum on the South Dakota State University campus will begin the tour on Sept. 30. The exhibition will continue to the Dahl Arts Center in Rapid City on Jan. 16, 2015. The Washington Pavilion of Arts and Science in Sioux Falls will display the exhibition starting June 12, 2015. The exhibition will make its final stop at the Dakota Prairie Museum in Aberdeen on Dec. 10, 2015.