Students Attend Yellow Jacket S'mores Night Last Week
The Yellow Jacket Apartments opened up for students to move in this past week as has the other residence halls around Black Hills State University.
To help new students and transfers feel more at home, the Yellow Jacket Apartment Staff hosted a S'more Night on Aug .17.
The staff introduced themselves and quickly became acquainted with both the old and new residents.
A small fire pit was lit and burned to give a soft glow to the faces of all students and apartment staff alike. Marshmallows, chocolate, and graham crackers were passed around while discussions of interesting facts and class schedules were exchanged.
Music softly played just under the sound level of excited chatter. The beginning of a new time had begun for some and the end is in sight for others.
The night was a success with allowing students and staff to become more acquainted with each other and for everyone to make new friends.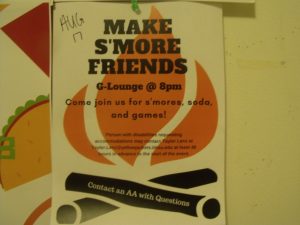 Samantha Rider