Spearfish Community Honors Heroes at Black Hills State University Football Game
Col. Michael Kane of Spearfish has a down-to-earth definition of a hero. Kane quoted Justine Angle in a speech that he gave at the recent football game that represented local heroes at Black Hills State University. He quoted, "Heroes don't need to fly or shoot lasers from their eyes to be the one who saves countless lives. They don't need super-strength or super-speed to be there, in someone's hour of need. They don't need a mask or villainous foe to save a family from certain woe. They just need to try to do what is right, to be the hero, shining in the night."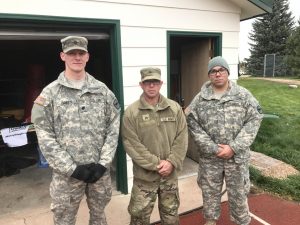 Kane's involvements in the military and firefighting service have made him a hero in his own right. He stresses how important it is for the community to come together in order to recognize the people who make our community safer. The Northern Hills community did just that on the cold, wet Saturday of Oct. 14. The Spearfish Fire Department, Spearfish Police Station, Emergency Medical Service, National Guard and Lawrence County Sheriff's Office were all recognized for their service.  
Jd Geigle has provided his services to the EMS for 31 years. He works alongside 14 other service men and women. Geigle reminds us that a lot of the firefighters and EMS crews are mostly volunteer-based. He thinks it is imperative that we — as a community — come together to recognize these people who give their time out of the goodness of their hearts.    
Sgt. Kenneth Branich inspires others with his virtue of gratefulness. He urges people to remember that we live in a free country, where we have the ability to come together as a community and bond over football. Branich mentions that he has visited countries where
people don't have a chance to get together and cheer on a favorite home team. "They're dodging bullets. We come together to honor those who have served who allow us to get together and to influence the future generations who want to provide state and worldwide security", stated Branich.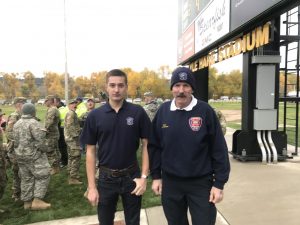 BHSU has several students who participate in the volunteer program with the fire department. One of these students is Garret Lawrence. Lawrence is a full-time, freshman accounting major who also works full-time at White's Canyon Ford dealership. Lawrence admits his schedule can be overwhelming at times but he wanted to give back to the community, so he joined a team of 60 volunteers at the Spearfish Fire Department. Lawrence stated,
"Everyday heroes are important. No one recognizes us as heroes typically. People sometimes take our service for granted. People have to remember that we are members of the community, often volunteers, that give our time for the betterment of the community".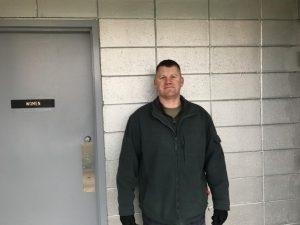 Another BHSU student volunteer is linebacker, Tanner Tadra, of the Yellow Jackets. Tadra is a sophomore at BHSU and is majoring in mass communication and human services with an emphasis in justice. Tadra first started volunteering for the fire department in his hometown of Elbert, Colo. that made him consider it as a possible career.
During his freshman year at BHSU, he started helping in Spearfish and now considers them his second family.  
Col. Kane ended his speech by saying, "We can never adequately repay these professionals for what they do for our great nation and our community, or for the sacrifices they make to ensure our safety and wellbeing. All we can do is say 'thank you' and let them know that they are appreciated and valued. So, the next time you run across a law enforcement officer, firefighter, EMS service professional, or veteran, go up to them, shake their hand and say "Thank you". Let them know that they are admired and truly appreciated for their service".