Faculty Profile: Juhrend of BHSU Theatre
Bert Juhrend has been the head of the Black Hills State University theatre department for over 17 years. His teaching and vision have helped both his students and community. BHSU student Rachel Larcher, when asked about the professor, said "I think Bert influences the theatre department every day." 
According to a Black Hills Pioneer article from October 22, 2004, Juhrend has traveled and worked in theatres across the country before landing in Spearfish, South Dakota. Juhrend chuckled when asked why he chose BHSU and joked that it "happened by accident," but that it was meant to be. He was attracted to the small-town community and friendly university. Juhrend and his wife, Claire, who also has an education in theatre, moved from Arkansas to Spearfish and have resided here since. 
Many changes were needed upon Juhrend's arrival to the Spearfish campus. 
He explained there were needed adjustments to provide hands on experience for theatre majors. One of the ways Juhrend provided that hands-on learning was by implementing work study: He runs a paid, summer theatre program, has students participate in the Kennedy Center American College Theater Festival, and continues to support student directors each semester. Through these activities, students have greater acting and playwriting opportunities. Juhrend has updated the scene shop as well as light and sound technology. He believes that as theatre becomes more reliant on technology, there will be more advancements to come.
The most important change, however, might be the ongoing remodel of his curriculum. Juhrend "revamped" it to fit students' career needs. He arranged classes for theatre majors so that they can be prepared to pursue a master's degree or work in professional theater. Juhrend shifted the focus of the minor so that education majors could have a theatre minor that would prepare them for teaching. The curriculum changes often, as he explained, "I almost always rewrite my class before I teach it." Juhrend believes he must keep adjusting his classes because theatre is constantly evolving. For example, the style of acting he learned in college is not the common practice now, as actors use a more realist form. 
This semester, Juhrend is teaching Introduction to Theatre, Introduction to Acting, Makeup, and Stagecraft. He enjoys teaching his students. "I enjoy letting people in on the secrets of theatre." The job does come with challenges: Juhrend is currently the only theater professor at BHSU. He balances a busy schedule and does not have many people to collaborate with for productions. Thankfully, Juhrend relies on the perspective of his wife Claire and help from students when necessary. 
Juhrend remains a well-liked professor and director. Student Rachel Larcher said, "One of the things I like about Bert is that he is the same person in class and in practice… Bert is not a dictatorial director." She explained that Juhrend encourages students to interpret characters/shows for themselves rather than telling them how to act unless students ask for help. Larcher shared that she has enjoyed all of Juhrend's classes and is excited to keep pursuing theatre at BHSU.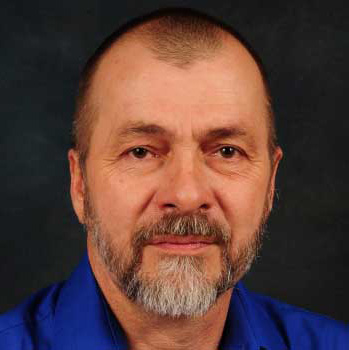 When asked what he is most proud of in his life, Juhrend took a moment before answering. He said he's most proud of his overall relationship with theatre: "I've always stayed curious; I've always wanted to know what's new and how do I do that." As time goes on, his goal is to get as many people into the arts as he can. Juhrend's determination to learn and grow has kept the BHSU theatre department's heart beating.