Enactus Members Impact Local and International Environments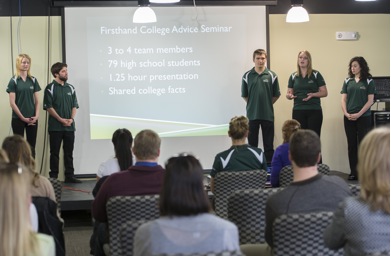 From giving college advice to Spearfish high school students to creating jobs for women in Zambia, one small group of ten students at BHSU involved in Enactus had a multigenerational and international impact.
Enactus is an international nonprofit organization of students who use entrepreneurial action to impact lives and shape a better world.
Teams brainstorm project ideas and develop them into impactful, life-changing events or services. Some projects are continued for years and are called legacy projects.
"Everyone is involved as much as they want to be," said Becca Ellis, professional accountancy major and president of Enactus. "If you really like an idea, you can be the project manager for that and you are in control of the project. It's really good experience for leadership as well."
To meet their multigenerational goal, the team offers classes on Facebook to retirees in the community. They speak at Spearfish High School to help prepare students for college and career planning. They are also part of the community Halloween party to promote a safe Halloween night in Spearfish.
For the team to cross into international impact, they began the Lisa Bike project that is geared toward international students at BHSU. Students may lease a bike for a semester to help withtransportation on and off campus. Another new international project is the Bee Sweet project, which impacts women in Zambia by providing them a means of income through tending bee hives. The honey from the hives is harvested biannually and sold to distributors in Europe. The Zambian women get a percentage of the profit for tending the bee hives.
By helping the Spearfish community and world beyond students involved in the organization are impacted through their involvement.
"Student organizations at our college impact not only the personal lives of the students involved and their advisors, but can raise the level of professionalism and the opportunities that students have involved in them," said Dr. Priscilla Romkema, Dean of the College of Business and Natural Sciences at BHSU.
"I've met a lot of different people through it and it's helped me get an internship I believe," said Ellis, Enactus President.
To be part of Enactus, teams must commit to competing every two out of three years at the yearly exposition. This year, the Enactus team will compete against approximately 300 schools at the Enactus United States National Exposition in Cincinnati, Ohio, April 1-3. At the expo, the team will present the projects that they have been working with all year long to a panel of judges.
"The first time I spoke, it was an interesting experience because I was just a sophomore in college," Ellis said. "I had taken speech, but when they put you up in front of 10 to 15 judges and you have to have a script memorized and just know it by heart, it's a frightening experience, but it turned out really well. It has definitely helped me with talking in front of classes now and at interviews I'm more confident about my speaking."
"I see the development in the students and how going to a national competition and competing with about 300 schools from all over the nation really ups your game," said Dr. Bobbi Looney, assistant professor of management and co-advisor for Enactus.
Enactus teams are made up primarily of business majors, but any student looking to get involved is encouraged to join the organization.